Bryan Bender from POLITICO scored some clutch UFO commentary from US Secretary of the Air Force Frank Kendall recently. Bender tweeted out that he had asked the Secretary "…if he has been briefed on UAPs and if he has thought about what the service's role should be in defending American airspace against unidentified craft."
Kendall is reported to have responded with " I've given a great deal of thought to defending American airspace but not against UFOs. If asked to do that then we will do it. This is a thing that's been around for a great many years."
Other notable quotes from Kendall included:
"I know a lot people take it very seriously and I think we should take the phenomenon seriously and try to investigate it."
"I don't consider it an imminent threat to the United States or the human race, these phenomenon occurring. But they obviously tweak a lot of peoples' curiosity and encourage speculation. So if we're asked to take that on, we will."
"I would have to see evidence that it was something worthy of the attention of the…Air Force as a threat. Our job is to protect…against threats. I have a lot of known threats out there that we're working very hard to protect the [US] against. I'd like to focus on those."
In trying to digest these statements it becomes apparent much follow up is needed. The verbiage Kendall used here was a bit of a shock and the apparent sentiment a welcome addition to other eyebrow raising commentary from this administration's cabinet appointees.
Is there a pattern of cabinet members speaking from an informed position on the UFO/UAP topic? There seems to be a consensus amongst a few that an effort is underway to educate and coach executive branch leadership on broaching the UAP issue. This could be where knowing your modern UFO history sheds light on what could be possibly happening.
Probably the most comprehensive analyses of the Tom DeLonge WikiLeaks emails has been done by Canadian researcher and experiencer Grant Cameron. I highly recommend trying to digest some of his work on this particular subject ; especially his highlights of former Clinton White House Chief of Staff and Hillary Clinton Campaign Manager , John Podesta.
It's no secret that Podesta is relatively close with Biden seeing as John worked regularly with the Obama administration. It is most definitely suspect then that John would hopefully try to undo what he considered his biggest failure of 2014 ; securing the disclosure of the UFO files.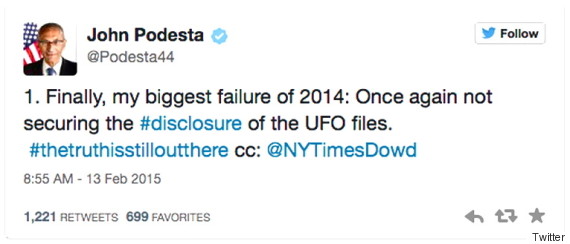 So , could it be true that John Podesta has been busy behind the scenes attempting to secure that disclosure? Or at the very least, helping position pieces on that proverbial chess board? It would be wise going forward to keep an eye on the think tank he founded named Center for American Progress. I hesitate to say there is a definitive link here but can't help but think chalking these recent comments from Frank Kendall up to just coincidence and personal opinion might be untrue to some degree.